AC Repair St Louis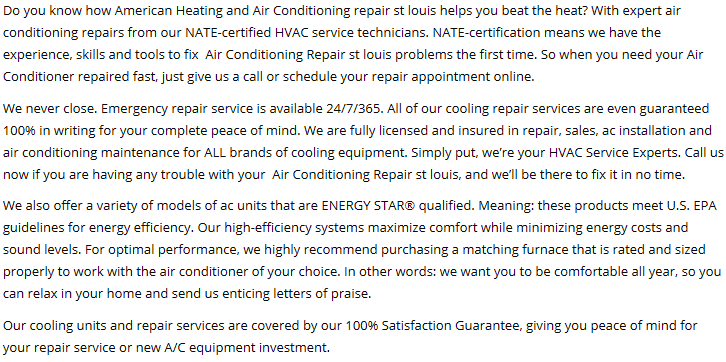 American Heating and Air Conditioning Repair St Louis is the best company in St Louis that has the best professionals who knows how to repair an AC. The reason why am saying this is because our staff is very cooperative, reliable and have the best reputation, when it comes in repairing the AC they know what they are doing, they have skills and they are always ready for their work. Our company has been in operation for many years and we always provide our clients references and inquire concerning our company in order to trust us. The team in AC Repair St Louis doesn't disappoint their clients when it comes in choosing our services.
We offer our clients the best advices when it comes in choosing the best company who knows how to repair AC. This is because you can find that they are some companies which are not qualified to repair AC and they end up damaging the AC. Clients are being advised to hire a superiority AC company that they can trust Our professional services include: maintenance of AC, our team in the office repair and maintain the AC in residential and commercial places. All our technicians in our office use the correct tools and they have correct license to handle different types of AC and other gases. Choose our company for the best services you need we are always punctual in our work and we always do our work in a right procedure. We always make our clients happy and proud.
Our staff in American Heating and Air Conditioning Repair St Louis and our support desk provides their clients website in order they can view the products and prices so that they should know what to choose. Our professional services include: we offer our clients special delivery and 24 hours services. The reason for this is you can find that some clients have problems with their AC late hours and they need the AC to be repaired so they can call us for help and we will help them. Most companies in St Louis are not working 24 hours so our company we decide for 24 hours to help our consumers. The team at our office always seat down with their clients and exchange ideas concerning AC Repair St Louis. Why you need us we are the best company and we are honest to our consumers.